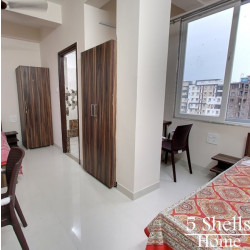 5 Shells Home, Kota
Kunhari,, Kota, Rajasthan, Kota
Girls Hostel
About
5 Shells Home

We are the most Luxurious, Comfortable and Quality hostel providers for Students in Kota, Rajasthan at a very reasonable rate. 5 Shells Home is a marketplace for budget and good level accommodations in Kota. We're in the process of creating a digital identity for hostels & paying guests, which play a very crucial role in accommodating thousands of students & young working professionals.
---
Amenities
Ac Rooms

Power Backup

Library

Wifi

Parking

Cold Water

Inhouse Kitchen

Water Purifier

Cupboard

Study Chair

Study Table

House Keeping

Common Area

Security

CCTV
---
Rooms & Fee Structure
| Sl.No | Rooms Type | Notes | Monthly Fee |
| --- | --- | --- | --- |
| 1 | 2 Seater | | ₹ 10000 |
| 2 | 1 Seater | | ₹ 12000 |
---
Location
---
5 Shells Home Details
5 Shells Home is one of the commercial venture founded on 5th June 2016. A Hostel which focuses on providing room rentals and food facilities under a single platform. Our hostel a range of budgeted room rentals doesn't restrict itself only in renting rooms but looks to provide students satisfaction and thus we differentiate ourselves from our competitors by taking ownership of the end to end student experience from the booking process to the checkout. Our team is hands-on when it comes to visiting the sites for approval to make sure that all rooms are in good condition before handing over it to the students. With every transaction we make creative strategies coupled with judicial application of sound strong principles. Ensuring an awesome predictable experience every time you visit us.

5 Shells Home, completely new start for an awesome rental living experience. So, one can explore a city rather than in search of a living place.
We are here to accept your problems as challenges and live up to your expectations by providing services, keeping transparency at both ends and come up with surprises and best offers. Looking to create a set of budgeted branded room rentals in Kota. We look forward to expand our user base with satisfaction to our customers. Establishing an awesome rental living with 5 Shells Home.

Our mission is to take the rental world to a class apart experience by leaps and bounds. Comprising of a bunch of passionate individuals we look forward to give a new dimension to the rental industry with a commercial touch.