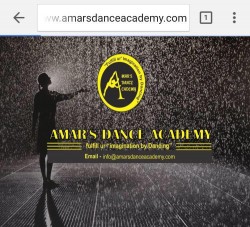 AMAR'S DANCE ACADEMY, Patna
Ground Floor Bhootnath Road, Bahadurpur Housing Colony, Patna, Patna
ActingDanceYoga
About
AMAR'S DANCE ACADEMY
We started in year 2009 but it was temporary. But form 2010 , the academy started to work on full level. From 2011 we started to work at state level and the national level work started from 2012 and from 2013 we are permanent.
---
Amenities
Ac Rooms

Power Backup

Parking

Cold Water

Scholarship

Hostel

Offline Test Series

Security

CCTV

First Aid
---
Courses & Fee Structure
Sl.No
Course Name
Notes
Duration

Details not available
---
Location
---
AMAR'S DANCE ACADEMY Details
was founded in 2014 by the central government? ADA is a nationally recognized dance training at the Academy, which guarantees you the highest level of national. Dance Academy is a kind of school and receives the confidence of the industry and the business community. Upon completion of his training in dance academy valuable personal statements with a diploma from our heads as well as our teaching faculty will be recognized by the central government. ADA our students to complete their first year of study we offer a year.
AMAR'S DANCE ACADEMY & Health acting with the aim of helping to promote and dance. The Academy is proud to provide the students the opportunity to entertain. Bollywood films to attend and participate in stage shows related projects ranging from Bollywood dancing. While provide a fun dance education excellence in providing AMAR'S DANCE ACADEMY target of the Recreational dancer as well as aspiring professional atmosphere and our students strong technique, confidence and self-esteem is low, training high provide a level. AMAR'S DANCE ACADEMY care for their children and we have a program.
OUR MISSION
---
Our mission dancer extensive artistic education that embraces a passion for the art form! Promote excellence in all forms of dance is to provide you with. We dance our best to provide the best faculty from across India. our strongly believe in making dance accessible to everyone and contribute to scholarship and tuition fee income, providing support through sponsorships like the academy strive. Moreover, the enthusiasm for its dancers and their desire within the community to create a positive impact for the dance company is a major goal. We believe that in the future we would like to do all the hostel facilities for students with real academy will give the best results in the future so that we can lead in this field, we dance, practice schedules and future suggests a diet chart for the body is good!
OUR VISION
---
Dance is an art that we know of! Without which one can not get to practice ! And this is also true in the Dance is very good carrier, so it's our most vision in the coming days their child Doctor & engineer not only become but also said Dancer!