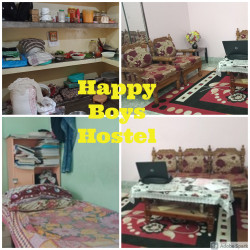 About
Happy Boys' Hostel is the best hostel in patna for living,Studying and homely feeling.Most Suitable environment for preparation of IIT,BANKING SERVICE,SSC,BPSC,UPSC..etc. This hostel is being managed by the Retd. Executive Engineer, Who knows the value of good environment and hygienic food for better results of students.
---
Amenities
Power Backup

Cold Water

Inhouse Kitchen

Water Purifier

Cupboard

Study Chair

Study Table

House Keeping

Common Area

Security

CCTV

First Aid
---
Rooms & Fee Structure
| Sl.No | Rooms Type | Notes | Monthly Fee |
| --- | --- | --- | --- |
| 1 | 1 Seater | (Including Fooding) | ₹ 7000 |
| 2 | 2 Seater | (Including Fooding) | ₹ 6300 |
---
Location
---
Happy Boys Hostel S.K.Puri,Patna Details
only single and double seater rooms have been provided in this hostel for better study environment. This hostel is suitable for preparation of IIT,MEDICAL,BANKING,SSC, BPSC,UPSC,ETC. This hostel is being maneged by the Retd Executive Engineer,Who lives in this building with family. Hence, the Owner and employee take care of students for 24 hrs.This hostel is cheapest and best as-well-as good environment and hygienic food is provided for better result of students.
(1)In this hostel all students have been given facilities not to wash thier utensils(Plate,Thali,Glass etc),these are washed by the hostel maid(servent) or employee.Such type of facilities are not available in other hostels.
(2)Bed Sheets and pillow covers are regularly washed in washing machine at an interval of ten days.These facilities is also not avalaible in other hostels.All things,like bed sheets,pillow with covers,tosak,extension Cord etc are provided from hostel.
(3) In winters season Hot water from Geyser for bathing purpose is also provided from 7:30 AM to 12:00 AM. This facilities is also not availaible in other hostels.
(4)In summer and rainy season,Water cooler(RO Water) has been provided for 24 hrs.
(5)In all rooms,kitchen,bathroom,dining space etc. mosquito net has been provided,to protect the students from any type of mosquitos for healthy living.
Remark: Students who are habitual of smoking,taking gutka,pan parag etc are not admitted in this hostel,only good students are admitted for better study environment.