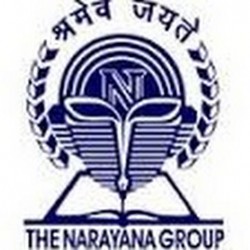 About
Narayana Coaching Centre

"Education is the single most important tool that shapes mankind" With the steer passion and zeal to offer nonpareil education, the Narayana Group is henceforth hooked to render towards their emotional, intellectual growth of their students. We are stooped with a dream to birth a platform to assist our students in achieving their dream goals, building values and nurturing skills. We are driven with the motto to continuously fuel and incite our students for success, while simultaneously winning through the challenges that come through their way. Courtesy to our belief in learning to be an unending journey that we ascertain to confer an intellectual and a rich ambiance for all our students to battle and finally come out in flying colours with all their future endeavours. Through the years, the acclaimed Narayana Group of Institutions has successfully composed the top grade earners with jaw-dropping numbers. Thanks to the expert instructions, year-long melding, ample facilities, and continuous monitoring and guidance, that have made it possible for the students to turn their dreams into reality. The wisdom and maturity which happens to be the offspring of our hard-work have been seamlessly blended to become the ultimate reinforcements and catalysts in these ongoing efforts. We know that the Educational Institutes are evaluated on the basis of their education quality and success rates of students who graduates every year. We are proud of all these at Narayana. Through the years we have been fortunate enough to flag unparalleled results in every niche of education that we involved ourselves in, and needless to say, we are dedicated to building a yardstick in the future too.
---
Amenities
Ac Rooms

Power Backup

Library

Parking

Cold Water

Scholarship

Hostel

Transport

Online Test Series

Offline Test Series

Security

CCTV

First Aid
---
Courses & Fee Structure
| Sl.No | Course Name | Notes | Duration |
| --- | --- | --- | --- |
| 1 | EXTENDED ONE-YEAR CLASSROOM PROGRAMME (EOYCP) | This 540-hours course is divided into four phases. It includes comprehensive training (excluding tests),practice sessions in the form of tutorial classes | 1 year |
| 2 | CONDENSED ONE-YEAR INTEGRATED CLASSROOM PROGRAMME (COYICP) | Classes 4-5 days/week, of all 3 subjects per day | 1 year |
| 3 | SPECIAL RANK PROMOTING PROGRAMME (SRPP) | This Programme helps students to improve their All India Rank. It includes doubt removal sessions, helps to develop outstanding examination skills and provide tips on time management and on how to crack the JEE (Main). | 1 year |
| 4 | FINISHING EDGE CRASH COURSE FOR JEE (MAIN) & IP UNIV. CET* | A revision and review course for XII studying and XII pass students who have completed their syllabus, and are working towards eliminating doubts, rank enhancement and gaining that extra edge. | 1 year |
| 5 | TWO-YEAR INTEGRATED CLASSROOM PROGRAMME (TYICP) | This programme prepares the students for JEE Main & JEE Advanced to give the best desired output and performance. | 2 years |
| 6 | TWO-YEAR INTEGRATED CLASSROOM PROGRAMME | The success of our students was inspiring and so was their faith in NARAYANA SPARK CO Program. | 2 years |
| 7 | ONE-YEAR INTEGRATED CLASSROOM PROGRAMME (OYICP) | This programme prepared the students for JEE-Advanced and JEE Main to give best desired output and performance | 2 years |
---
Location
---
Narayana Coaching Centre Details
Ever since the advent of educational institutes, they have always been expected to make this world a better place to live in besides bringing one's true potential to light, as the biggest gift to mankind.
As an Educationist's point of view, I believe the absolute completion of a student's education happens only after we have bestowed our services towards their overall development, in addition to endowing them with career-oriented training and knowledge. With an aim to provide top of the league training to students to excel in every sphere of their lives, Narayana Group has been focusing on result oriented inputs. Narayana's courses have been designed to cater to all the needs of the aspirants to help them to excel in various competitive as well as Board examinations.
With the ever-changing patterns of the entrance exams for the top medical/engineering, we have taken over some creative techniques and teaching methodologies to help keep our students ready and geared up for the challenges. As a result, Narayana's time-tested learning formulae are percolating to far-flung corners of India to benefit students from all backgrounds.
"Your inspiration is our dream and our goal lies in your destination". Today we rededicate the last 3 decades of our success to your dreams. I wish a year full of promises and success to all our students.
Our Faculty trains you painstakingly so that you outdo competitors, because we know how crucial the difference of a few ranks can make to your future prospects.
Highly renowned, experienced and dedicated faculty.
Extensive research-based study material.

Library:

The library at Narayana is a treasure trove of knowledge, which houses a vast and comprehensive collection of books in all the respective and relevant subjects. The books are made available as and when required by the student, as per the rules and regulations of the library.

Hostel:

Home away from home". There are PG accommodations available in the nearby areas, where Narayana IIT Academy centres are located and they provide separate accommodation for girls and boys. Thus, appropriate assistance may be provided in locating paying guest accommodations to students as per requirement.

Hostel charges are between Rs. 4,500 to Rs. 5,500/- per month.

Double/Triple occupancy basis

Mess facility included Hostel charges vary from centre to centre.

Individual attention through tutorial classes with regular practice sessions.

Doubt clearance cell to clarify doubts of students:

"One more step towards excellence".In our constant endeavour to provide the best for our students, we have taken one more step towards excellence by setting up the "Doubt Clearing Cell". The Doubt Clearing Cell is the one stop solution to all the queries of students preparing for IIT-JEE, DCE as well as Board related topics. The teachers are available throughout the day to clear any doubts of students on all working days.

All India Common Periodic Test among all Narayana Centres with feedback through micro and macro-level analyses.

Common Practice Test (CPT) :

It is a weekly test conducted all over India among Narayana students. It gives our students unique opportunity to perform weekly and see their rank potential among the real IIT-JEE aspirants. It is the life line of every programme offered by Narayana. Besides keeping the students competetive and motivated, it helps them to realise their full potential. After taking several CPTs our students become so confident and prepared that even the IIT-JEE paper becomes easier for them.

Board Understanding Evaluation Paper (BUEP) :

This is a testing technique through which the knowledge of the students will be tested pertaining to the topics taught up to CBSE level, so that they can produce extra-ordinary results in the Board exams as well.

Frequent parent-teacher meetings for effective feedback.

All India Test Series with national ranking :

No student's IIT-JEE preparation can be considered complete without a good test series. This test series consists of 6 part tests and 6 full tests on the latest IIT-JEE pattern. There will be two question papers of three hours duration, each consisting of separate sections for Physics, Chemistry and Mathematics.

Work Book for regular monitoring of students' performance.